Darwin, the capital city of Australia's Northern Territory, is a melting pot of cultures, and this diversity is beautifully reflected in its culinary scene. For gourmet travelers, the city offers a dazzling array of dining experiences. Here are our top picks for the best restaurants in Darwin that promise a memorable gastronomic journey.
Best Restaurants in Darwin for Gourmet Travelers
1. Little Miss Korea
Little Miss Korea is a modern Korean Restaurant located in the heart of Darwin. Established by Celebrity Chef Chung Jae Lee in 2015, the restaurant boasts a unique Korean BBQ experience. The ambiance is characterized by its funky industrial design, reminiscent of Melbourne's trendy dining spots. They offer express lunches, modern dishes for dinner, and a unique Korean BBQ experience.
In 2018, they expanded their offerings with the launch of the adjoining bar, "The Loading Bay," which serves a diverse range of foods and beverages. During the dry season, patrons can relish the splendid Darwin weather with alfresco dining.
The restaurant is a fusion of traditional Korean flavors with a modern twist, ensuring a delightful dining experience for all. Whether you're in the mood for an express lunch or a leisurely dinner, Little Miss Korea promises an unforgettable culinary journey.
Ambiance and Setting: A modern and chic setting with a touch of traditional Korean elements.
Cuisine and Signature Dishes: Authentic Korean BBQ and traditional dishes. The Bulgogi and Kimchi are must-tries.
Special Features: An interactive BBQ experience where diners can grill their own meats.
2. Yogi's Way
Yogi's Way is a culinary gem in Darwin that offers a delightful fusion of modern Australian and traditional Nepalese and Indian cuisine. Located in Stuart Park, this restaurant is where the rich culinary heritage of Nepal meets contemporary Australian flavors, ensuring a unique and unforgettable dining experience.
The restaurant is renowned for its fresh ingredients sourced both locally and from the Himalayas. Whether you're craving a hearty breakfast, a traditional main course, or just a cup of aromatic coffee, Yogi's Way has something to tantalize your taste buds.
Apart from dine-in, Yogi's Way offers catering services for special occasions, hosts events ensuring a memorable experience, and even has food trucks for those who want their delicious food on the go. Patrons have lauded the restaurant for its authentic Nepalese food, exceptional customer service, and cozy ambiance.
The restaurant has garnered praise for its beautifully presented meals, friendly staff, and reasonable prices. With an ambiance that transports you to the heart of India, it's no wonder that Yogi's Way has garnered such a loyal following.
Ambiance and Setting: A serene environment reminiscent of an Indian haven.
Cuisine and Signature Dishes: Indian cuisine with a modern twist. momos , Thali set and the Butter Chicken and Naan are crowd favorites.
Special Features: Vegan and gluten-free options available.
3. Pee Wee's at the Point
Situated at the picturesque Fannie Bay, Pee Wee's offers a dining experience like no other. Celebrated for its authentic local cuisine, it has been recognized as Darwin's best restaurant with the best wine list in 2022. The restaurant is a testament to the rich culinary heritage of the Northern Territory, offering dishes that reflect the region's flavors and traditions.
The restaurant is renowned for its use of fresh local produce and its commitment to delivering a true Australian dining experience. With its stunning waterfront location, Pee Wee's provides an unparalleled dining experience. The restaurant boasts an award-winning wine list, ensuring that every meal is complemented by the perfect beverage.
Whether you're looking for a la carte dining or a more informal lounge experience, Pee Wee's caters to all preferences. Their lounge area is ideal for after-work drinks or weekend gatherings, offering delicious cocktails, selected wines, and a unique small plates and platter menu.
Ambiance and Setting: Overlooking the stunning Fannie Bay, the restaurant offers breathtaking sunset views.
Cuisine and Signature Dishes: Modern Australian cuisine using fresh local produce. The seafood platter is a must-try.
Special Features: Offers an extensive wine list featuring Australian wines.
3. Wharf One Food & Wine
Wharf One Food & Wine is a celebration of Australian flavors that opened its doors on 28 May 2015 . Located by the Darwin Harbor, the restaurant offers diners panoramic views, making it a perfect spot for romantic dinners and family gatherings.
The restaurant's chic industrial decor creates a welcoming atmosphere, and every table offers breathtaking water views of the lagoon and Darwin Harbour. Whether you choose to dine alfresco or inside the air-conditioned interiors, the ambiance is sure to impress.
It is renowned for its generous dishes with robust flavors. The chefs, with their diverse culinary experiences, prioritize the use of the finest ingredients and local produce. The open-air kitchen allows diners to be part of the culinary journey, witnessing their food being artfully prepared.
The menu is a reflection of the best seasonal ingredients available, with many dishes designed for sharing, making it perfect for gatherings.
Ambiance and Setting: Located by the picturesque backdrop of the Darwin Waterfront, it offers a relaxed dining experience with views of the Darwin Harbor.
Cuisine and Signature Dishes: Focuses on local ingredients to create contemporary dishes. The Barramundi is highly recommended. Another highlight is its custom-made wood grill, which infuses dishes with a tantalizing smoky essence.
Special Features: Perfect for outdoor dining.
5. Hanuman
A culinary gem in Darwin, Hanuman is where Thai, Nonya and Indian cuisines converge. Located on Mitchell Street, Hanuman has been a culinary landmark in the region, providing diners with an authentic Asian dining experience. The restaurant's rich menu, combined with its ambient setting, promises a dining experience that's both flavorful and memorable.
Hanuman is renowned for its diverse menu that caters to various dietary preferences, including vegan, gluten-free, and dairy-free options. Whether you're in the mood for a hearty lunch or a sumptuous dinner, Hanuman promises a gastronomic journey that reflects the rich culinary traditions of Asia.
Hanuman pays its respects to the Traditional Owners of the lands where they operate, the Larrakia people of the Darwin region, and the Arrernte people of Mparntwe (Alice Springs). They celebrate the stories, culture, and traditions of Aboriginal and Torres Strait Islander communities.
Booking a table at Hanuman Darwin is a breeze. The restaurant can host tables of up to 35 people, ensuring a cozy and intimate dining experience.
Ambiance and Setting: A blend of modern and traditional decor creating a warm atmosphere.
Cuisine and Signature Dishes: Thai and Indian flavors dominate the menu. The Tandoori dishes and Thai curries are sensational.
Special Features: Renowned for its extensive wine and cocktail list. It offers a range of dietary preferences.
6. Yots Greek Taverna
Located on the scenic Waterfront Boardwalk at Cullen Bay, Yots Greek Taverna is one of Darwin's premier dining establishments. The restaurant boasts a rich blend of modern and traditional Greek culinary delights. Yots is not just a restaurant but also an ideal venue for weddings and other events. They offer set menus and can cater to large groups, ensuring every occasion is special.
This restaurant is renowned for its blend of modern and traditional Greek cuisine, with fresh seafood dishes being a specialty. The ambiance at Yots is reminiscent of the Mediterranean, offering patrons a taste of Greece in the heart of Darwin.
The restaurant takes pride in its daily fresh vegetables, fruit, fish, oysters, and other delectable seafood. Whether you're in the mood for Lamb or Chicken skewers, char-grilled and served with lemon-baked potatoes, salad, and tzatziki, Yots promises a culinary experience like no other.
The marina dining ambiance at Yots provides the perfect backdrop for guests to savor their meals. Whether you're dining on the balcony or inside, the setting feels authentically Greek, ensuring a memorable dining experience.
Ambiance and Setting: A cozy setting with a touch of Greek charm.
Cuisine and Signature Dishes: Authentic Greek cuisine. The Moussaka, Greek salad, and Souvlaki are some of their signature dishes.
Special Features: Located by the marina, offering gorgeous views.
7. Moorish Cafe
Moorish Cafe is where the flavors of Spain, the Mediterranean, and North Africa come alive. Located on the bustling Knuckey St in Darwin, it has been the city's original tapas restaurant for over 20 years. The restaurant's diverse menu, combined with its Mediterranean ambiance, makes it a must-visit spot in Darwin.
The culture of tapas, which originated in a Southern province of Spain, is celebrated at Moorish Cafe. Defined as small plates of food, tapas encourage sharing, conversation, and exploration of diverse dishes. The menu at Moorish Cafe is a testament to this tradition, with offerings ranging from daily Moroccan tagines to dukkah crusted steaks.
The restaurant's urban retreat setting allows guests to relax in a daybed, savor a "Darwin sunset" cocktail or sangria, and immerse themselves in an international menu that transports them to distant lands.
Moorish Cafe is committed to offering the best of Spanish, Mediterranean, and North African-inspired cuisine, utilizing as much fresh local produce as possible. The restaurant prides itself on being a standout food experience in Darwin.
Ambiance and Setting: Mediterranean vibes with a relaxed setting of Darwin sunset.
Cuisine and Signature Dishes: Spanish tapas and North African dishes. The paella is a standout.
Special Features: Offers a variety of tapas and share plates.
8. Ella By Minoli
Ella by Minoli is a culinary masterpiece in Darwin that brings the authentic flavors of Sri Lanka to the forefront. The restaurant is the culmination of decades of passion for food, flavor, and exceptional hospitality. At Ella, dining is not just about the food; it's a holistic experience. As you step through the doors, you're not just a guest but family, embarking on a flavorful journey through Sri Lanka as envisioned by Minoli.
Ella is a serene oasis in the heart of Darwin. Designed by Scott Bagnell, the space is inspired by Ella, a hidden jungle town in Sri Lanka's Hill Country. The restaurant exudes a vibe of Tropical Modernism, transporting diners to Minoli's home where every detail is meticulously thought out.
The kitchen at Ella is a hub of innovation and creativity. With a focus on seasonal local produce, modern cooking techniques, and the rich flavors of Minoli's Sri Lankan heritage, diners are treated to Sri Lankan cuisine like never before. The dishes are a testament to Minoli's travels and her limitless exploration of flavors.
The drinks at Ella are crafted to elevate the dining experience. From balanced cocktails to a curated wine list, there's a drink for every palate.
Ambiance and Setting: Transport your senses to the secret jungle town in the Hill Country of Sri Lanka.
Cuisine and Signature Dishes: A culinary expedition through the rich myriad of flavors of Sri Lankan heritage. Expect decadent curries, mind-blowing spice mixes, and delightful cocktails.
Special Features: The restaurant is inspired by 2021 MasterChef contestant Minoli De Silva's heritage, blending ancient cooking techniques with modern twists.
9. Hot Tamale
Hot Tamale is a vibrant dining destination located at the Darwin Waterfront. Known for its lively ambiance and authentic flavors, the restaurant offers a unique blend of traditional and modern culinary delights. With over 300 types of agave spirits and a menu that boasts a variety of tacos, Hot Tamale is a haven for food and drink enthusiasts.
Situated at the Darwin Waterfront, Hot Tamale offers stunning precinct and water views, making it an ideal spot for both casual lunches and romantic dinners. The restaurant's lively atmosphere is perfect for parties, group gatherings, and private dining experiences.
The restaurant is celebrated for its signature dishes, including their famous guacamole and a diverse range of tacos. Their extensive drink menu, featuring over 300 types of agave spirits, ensures that there's a beverage to complement every dish. Whether you're in the mood for a refreshing cocktail or a classic tequila, Hot Tamale has got you covered.
Ambiance and Setting: A festive and vibrant atmosphere perfect for a fun night out.
Cuisine and Signature Dishes: Authentic Mexican food, including fresh guacamole, tacos, and a vast selection of agave spirits.
Special Features: Boasts over 300 types of agave spirits, making it the largest bar collection in the Southern Hemisphere.
10. Phat Mango
Located at the heart of Darwin, on the corner of Knuckey Street and Austin Lane, Phat Mango offers an intimate dining setting. Phat Mango stands out as a culinary gem in Darwin, offering a delightful fusion of contemporary and traditional Australian flavors.
The restaurant's menu is a testament to its commitment to quality and innovation. From dishes that showcase the rich flavors of Australian produce to the chef's special selections, every bite promises a gastronomic adventure. Their offerings cater to various dietary needs, including vegetarian, vegan, and gluten-free options.
The ambiance is complemented by the attentive staff who ensure that every dining experience is memorable. With a rating of 4.5 out of 5 on Tripadvisor, it's evident that the restaurant has made a significant mark on its patrons.
11. The O.A.K (Original Australian Kitchen)
Nestled in the heart of Darwin, The O.A.K is not just a restaurant; it's a journey through the vast and varied landscape of Australian cuisine. Drawing inspiration from the sun-kissed beaches, the rugged outback, and the bustling cities, The O.A.K brings together the essence of Australia on a plate.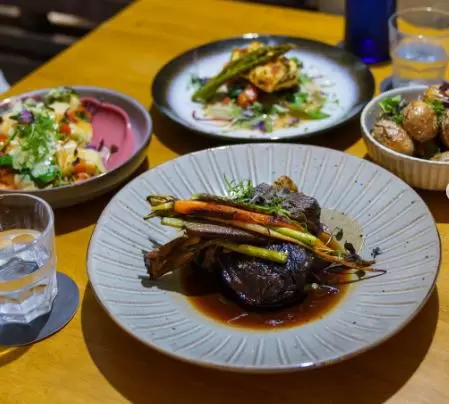 Dive into a menu that celebrates the rich tapestry of Australian culture. Imagine savoring a dish that combines the freshness of seafood from the Great Barrier Reef, the earthiness of bush tucker from the outback, and the zest of spices from urban markets. Every bite tells a story, every dish is a memory.
The restaurant's design is a nod to Australia's diverse landscapes. Rustic wooden tables reminiscent of the outback, coastal decor elements, and urban chic lighting come together to create an ambiance that's uniquely Australian. Whether you're seated indoors surrounded by art inspired by Aboriginal culture or outdoors with a view of Darwin's skyline, the setting is perfect for creating memories.
Ambiance and Setting: A relaxed atmosphere with chic interiors located in the Oaks Darwin Elan Hotel.
Cuisine and Signature Dishes: High-quality Australian cuisine using the finest local produce, including meats, seafood, and vegetarian options.
Special Features: A melting pot of cooking techniques from various traditions, ensuring a diverse menu.
12. Chow
Nestled in the heart of the Darwin Waterfront Precinct, Chow offers a culinary escape to the vibrant flavors of South East Asia. Recognized for its exceptional culinary offerings, Chow proudly holds the title of the 2021 "Golden Bowl" winner in the Darwin Laksa Festival. With a menu that celebrates the essence of Vietnamese and Asian cuisine, every dish at Chow is a testament to the region's rich culinary heritage.
Dive into a world of flavors with Chow's signature dishes. From hearty noodles and vibrant salads to refreshing coconut crushies, every bite promises a gastronomic delight. Pair your meal with one of their award-winning cocktails, expertly crafted to complement the flavors on your plate.
Experience the laid-back vibes of South East Asia right in Darwin. With its relaxed setting, contemporary decor, and a covered patio offering stunning waterfront views, Chow is the perfect spot for a casual lunch, a romantic dinner, or a fun evening with friends. A visit here is not just a meal; it's an award-winning dining experience.
Ambiance and Setting: A relaxed and casual setting with a covered patio, perfect for enjoying the waterfront views.
Cuisine and Signature Dishes: From steaming bowls of pho and laksa to spicy beef and bamboo shoots, the menu is full of zest and spice.
Special Features: Offers banquet menus for a comprehensive tasting experience.
13. Il Piatto
Located at the iconic Mindil Beach Casino Resort, Il Piatto serves as Darwin's gateway to the rich and diverse flavors of Italy. Overlooking the mesmerizing Arafura Sea, the restaurant promises an Italian dining experience like no other.
From traditional pasta dishes and wood-fired pizzas to contemporary Italian creations, Il Piatto's menu is a celebration of Italy's culinary heritage. Each dish, crafted with passion and precision, promises to transport diners to the heart of Italy.
The restaurant's elegant interiors, combined with its al fresco dining option on the deck, provide the perfect backdrop for a romantic dinner, a family gathering, or a special celebration. The open kitchen, featuring a state-of-the-art pizza oven, adds a touch of theatricality to the dining experience.
Beyond the food, it's the breathtaking views of the Arafura Sea, the gentle sea breeze, and the impeccable service that make a meal at Il Piatto truly memorable.
Ambiance and Setting: A relaxed and beautifully refined setting, with options to dine al fresco on the deck and allowing to witness the culinary magic via open kitchen.
Cuisine and Signature Dishes: Chef Carmine Labbozzetta brings rustic dishes cooked with love, from grilled items to meals baked in wood-fired ovens.
Special Features: A blend of classic Italian dishes and modern twists that cater to the entire family while offering breathtaking views of the Arafura Sea.
Final Word
In a nutshell, Darwin's dining scene is incredibly diverse, offering gourmet travelers a taste of the world. Whether you're in the mood for Korean BBQ, Indian curries, or Mediterranean tapas, Darwin has something to satiate every palate. So, the next time you're in the city, make sure to dine at these top picks and embark on a remarkable culinary adventure.