Welcome to Darwin, the vibrant tropical city that bubbles with beauty and sits at the top end of Australia. With its unique blend of indigenous culture, natural wonders, and thrilling outdoor adventures, Darwin locks an unforgettable experience for all tourists.
In this comprehensive guide, let's start walking with us through the top things to do, must-visit eateries, accommodation options, and more, ensuring you explore every beautiful spot in this captivating city.
Start with Exploring Nature's Wonders
Darwin along with its colourful culture is blessed with an abundance of natural beauty that will leave you awe-inspired. Here are some of the must-visit gems of Darwin:
1. Litchfield National Park
Start your puzzle of adventure to Darwin by exploring the magnificent Litchfield National Park. Just a 90-minute short drive from the city, this park is a haven of waterfalls, ancient rainforests, and unique wildlife.
Be sure to visit Wangi Falls, Florence Falls, and Buley Rockhole, where you can swim safely in croc-free crystal-clear natural swimming holes surrounded by lush greenery.
2. Kakadu National Park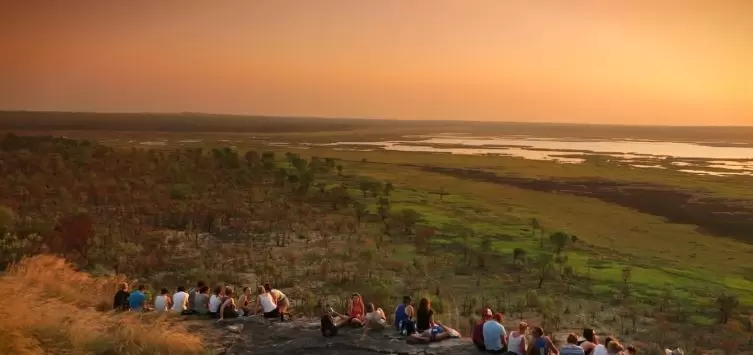 This is where you should next land to. The World Heritage-listed Kakadu National Park is a vast expanse of wilderness that showcases the rich indigenous heritage and diverse ecosystems of the region.
Explore ancient rock art at Ubirr and Nourlangie, take a cruise on the Yellow Water Billabong to spot massive crocodiles and birdlife, and immerse yourself in the vibrant cultural experiences offered by the local indigenous communities.
3. Nitmiluk National Park
If you don't visit the stunning Nitmiluk National Park, home to the iconic Katherine Gorge, you will definitely leave a loophole in your trip.
Take a boat cruise or hire a kayak to navigate through the majestic sandstone cliffs, swim in the clear waters, and immerse yourself in the breathtaking beauty of this ancient landscape.
4. Darwin Harbour
Don't miss the opportunity to explore Darwin Harbour, a natural harbour that has a lot to offer.
From taking a sunset cruise to admire the vibrant colours of the sky and go fishing for barramundi, or hopping on a sailing tour to explore the coastal beauty and spot dolphins and other marine life, the harbour is the must-visit place to get mesmerised in the natural beauty of Darwin.
Eateries to Try
Darwin's culinary table is a delightful mix of international flavours and fresh seafood. Here are some of the eateries you should include in your list that will surely leave mouth-hanging at the end.
1. Mindil Beach Sunset Market
Indulge in an iconic culinary experience at the famous Mindil Beach Sunset Market. Held every Thursday and Sunday evening from April to October, this market is a food lover's paradise.
It showcases the diverse cultural heritage of the region, offering a delightful mix of food, arts, crafts, and entertainment.
The RoadKill Cafe sells mouthwatering crocodile burgers that will tingle your tastebuds till the end. Some restaurants offer Malaysian delicacies like egg noodle soup cooked in coconut milk, making you want more every time you try.
Stroll along the sandy beach, watch live performances, and sample a wide variety of cuisines, from Asian street food to Greek delicacies, making the most of your time. Be sure to try the mouthwatering camel burgers and enjoy the stunning sunsets over the Timor Sea. The atmosphere is electric, making it a go-to place for both locals and tourists alike.
2. Hanuman
Hanuman, an award-winning restaurant renowned for its Southeast Asian cuisine offers an exquisite dining experience. With the right level of fusion of Thai, Indian, and Nonya flavours, this restaurant promises an unforgettable gastronomic journey.
3. Stokes Hill Wharf
Located on the waterfront, Stokes Hill Wharf has an array of dining options.
Immerse yourself in the fresh seafood straight from the ocean, sip on tropical cocktails, and soak in the lively atmosphere of the harbour. Don't forget to binge on the famous fish and chips!
4. Parap Village Markets
If you're a fan of local produce and delicious street food, head to the Parap Village Markets held every Saturday.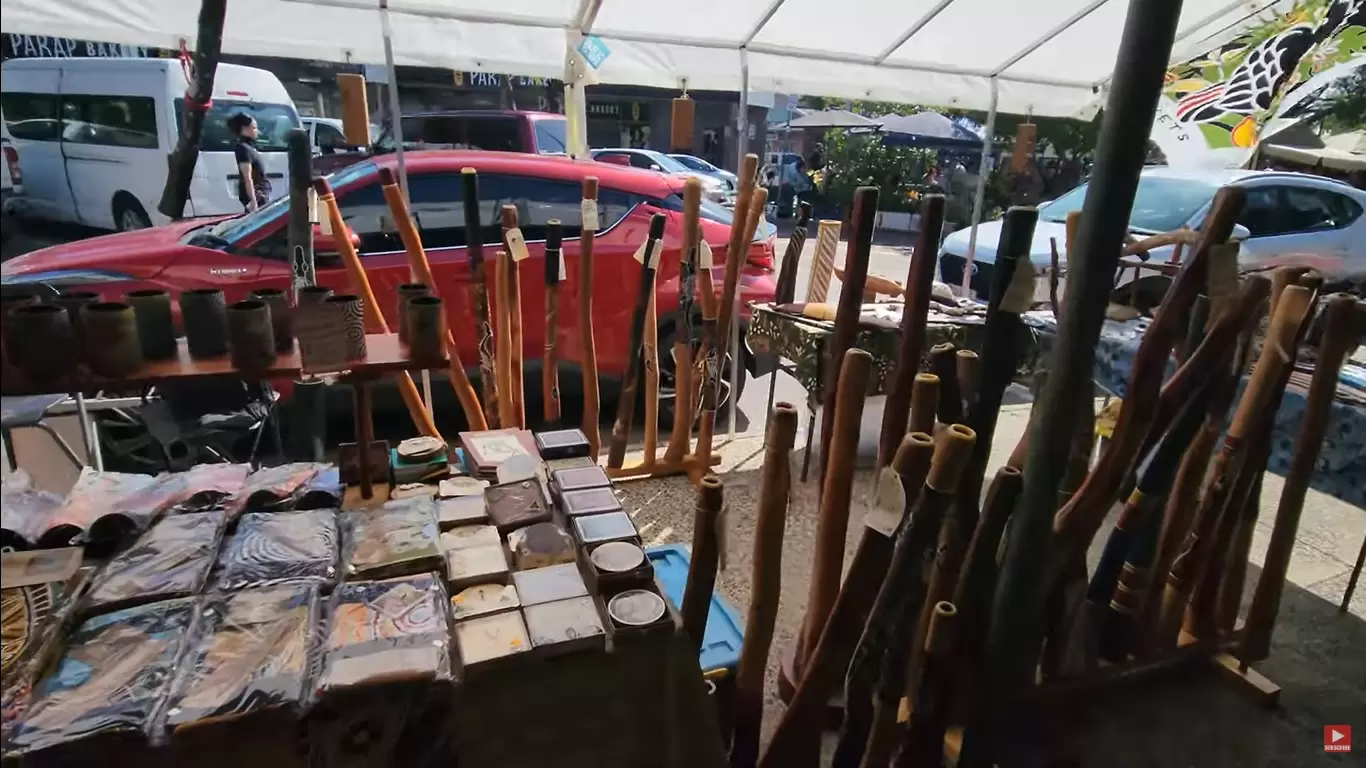 Explore the stalls offering fresh tropical fruits, gourmet treats, and mouthwatering dishes from around the world.
Things to Do in Darwin
Darwin is brimming with experiences and attractions that cater to every interest. Here are some places that you must add to your itinerary:
1. Crocosaurus Cove
Time to meet and get personal with some of the Northern Territory's most fearsome reptiles at Crocosaurus Cove. Feel the adrenaline rush of swimming with crocodiles in the famous "Cage of Death," or watch the daily feeding shows to learn more about these prehistoric creatures. If this is not on your bucket list then you should definitely reconsider making a new one!
2. Museum and Art Gallery of the Northern Territory
Explore the region's rich cultural heritage at the Museum and Art Gallery of the Northern Territory. If you are a history lover, do visit this place to admire the impressive collection of Aboriginal art, learn about the history of Cyclone Tracy that devastated Darwin in 1974, and discover the diverse natural environment through interactive exhibits.
3. Darwin Waterfront Precinct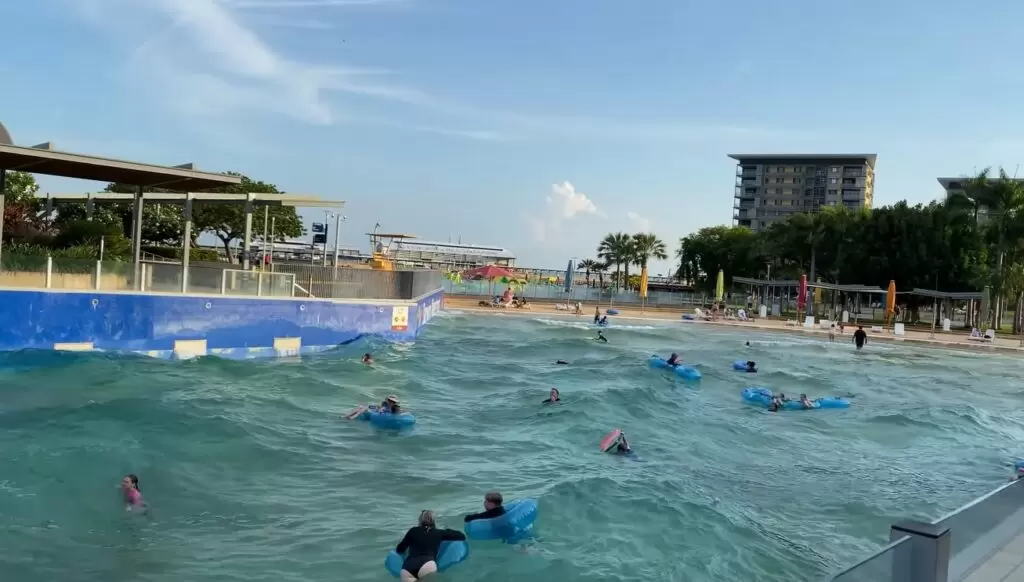 Enjoy a day of leisure at the Darwin Waterfront Precinct, a perfect hub of entertainment to unwind after a long day. Swim in the safe zone of the saltwater lagoon, relax on the sandy beach, or dig in at the waterfront restaurants and cafes, every second here is worth it. If your family is accompanying you, consider going to Wave Lagoon for an artificial wave pool perfect for some family-friendly fun.
4. Deckchair Cinema
Are outdoor cinemas your thing? If so, head to the iconic Deckchair Cinema. Set against the backdrop of Darwin's starry sky, this open-air cinema screens a selection of renowned local and international films.
Grab a deckchair, enjoy a picnic under the twinkling lights with your partner, and immerse yourself in the magic of the movies with the perfect tropical ambience.
5. Darwin Festival
If you are lucky to visit Darwin in August, you're in for a treat with the annual Darwin Festival. This vibrant celebration is a beautiful mixture of art, culture, and music showcasing a diverse range of performances, exhibitions, and events.
The Darwin Festival brings the city to life with a festive atmosphere, from live music concerts and theatre performances to art installations and dance shows. Immerse yourself in the artistic flair of Darwin and enjoy the exciting program of events that highlight the unique multicultural essence of the region.
6. Tiwi Islands
Take a day trip to the Tiwi Islands, located on a short ferry ride of 2.5 hours from Darwin. Home to the Tiwi people, known for their vibrant art, dance, and music, the lush islands offer a unique cultural experience.
Participate in a traditional smoking ceremony, witness a lively dance performance, and interact with local artists in their workshops to build vibrant memories. This immersive interaction with the Tiwi people allows for a genuine appreciation of their ancient traditions.
7. Darwin Beer Can Regatta
For a quirky and fun-filled event, the Darwin Beer Can Regatta should not be missed. Held annually, this event features boat races made entirely out of empty beer cans and other recycled materials offering sustainable enjoyment.
Watch as locals and visitors compete in various categories, portraying their creativity and craftsmanship. The regatta also includes live music, food stalls, and family-friendly activities, making it an entertaining and lively day out for everyone.
8. Darwin Chocolate Factory
From hundreds of different handmade gourmet chocolates to a wonderful tour, Darwin Chocolate Factory stays ahead in the game. Have a sweet day by visiting the factory with your loved ones for free and have a look from the window at how the finest chocolates of Darwin are made.
Starting from just $30, you can have an ultimate tasting of their 3-tier chocolate with hot brewing coffee in their secret indoor garden. If that does interest you, you can join their workshop and make your own goodies and enjoy.
9. Helicopter Experience
Unleash the thrill-seeker within and explore Darwin with Airborne Solutions. Take to the skies on exhilarating helicopter tours, soaking in panoramic views of Darwin's stunning landscapes and iconic landmarks including Litchfield and Kakadu National Park.
Capture awe-inspiring aerial photographs, venture to remote areas inaccessible by land, and customize your own unique charter experience to update your Instagram feed with something worthy.
Embark on an unforgettable adventure and see Darwin from a whole new perspective with Airborne Solutions.
Travel Options in Darwin
Surprisingly there are not many travelling options Darwin has in store for you. A few noteworthy considerations are as follows:
1. Personal Car
If you are an Australian resident, having your own car is a convenient and flexible option to explore Darwin. With your personal car at your disposal, you have the freedom to explore beyond the limits. Having a private car grants you the opportunity to fully immerse yourself in the natural wonders without giving a second thought to anything else.
2. Public Ferries and Buses
Darwin has a reliable public transportation system, including ferries, buses and taxis. The public buses cover major areas within the city and its suburbs, providing an affordable mode of transport for most to get around. The Darwin Waterfront Precinct offers public ferry services to various destinations, including Mandorah, an island located across Darwin Harbor to enjoy the scenic beauty.
3. Car Rental
Car rental is one of the most popular options among tourists and residents for exploring Darwin City. Unlike public transport, a car rental service is perfect to spend time with your loved ones while you explore the indigenous cultural experiences and landscapes.
If you want to save your precious time from searching car rental fleets and scams then look no further! Territory Car Rentals offers a diverse rental fleet that not only suits the budget with no hidden charges and free cancellation but allows you to explore unlimited kilometres. Our customer reviews speaks volume about our service.
Accommodation Options
Darwin offers a range of accommodation options to suit everyone's pocket and preferences. Here are a few notable options:
1. Skycity Darwin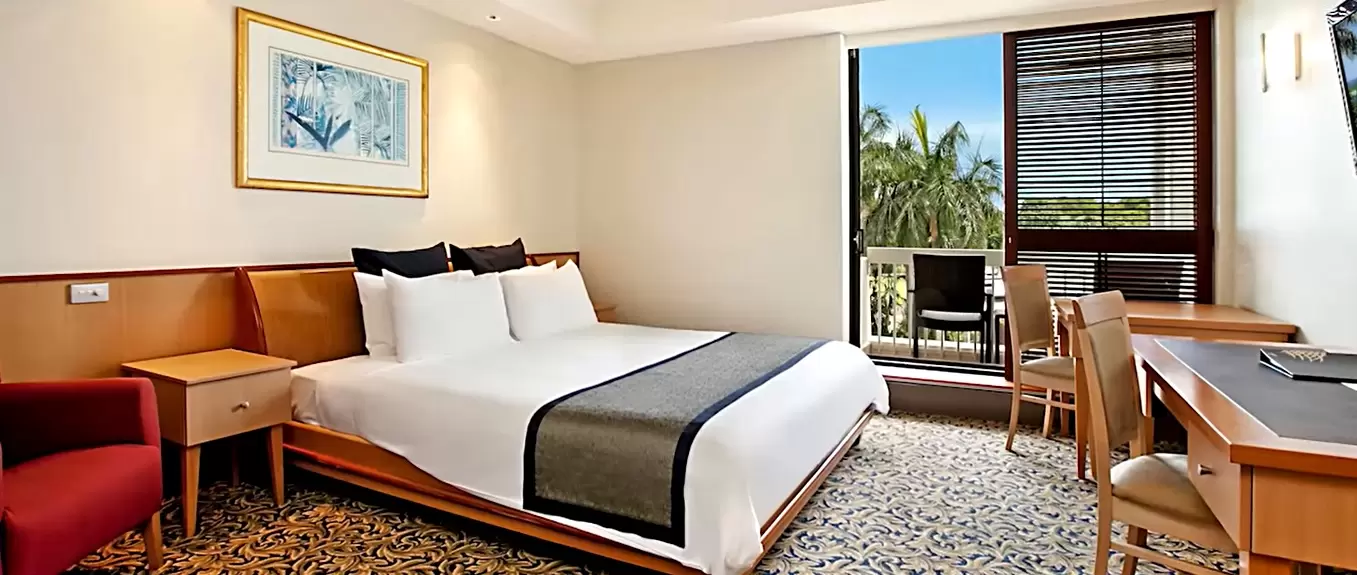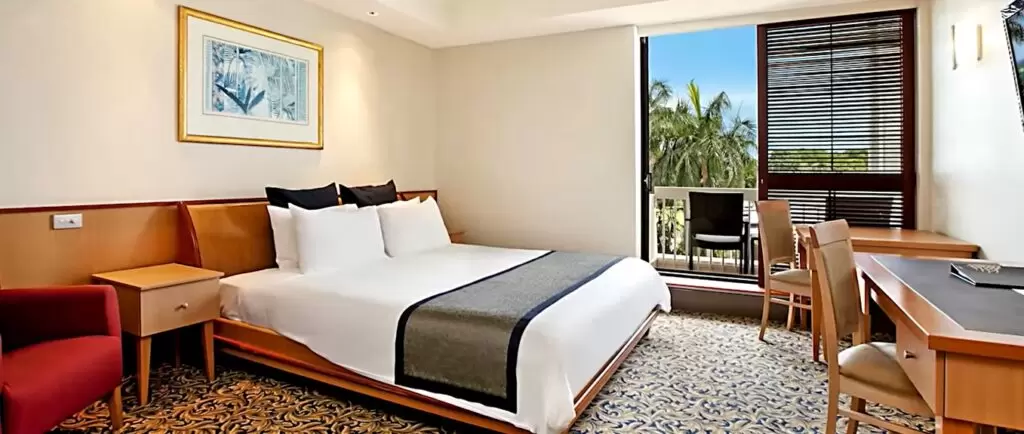 Located on this refreshing Mindil Beach, Skycity Darwin offers luxurious accommodations and a range of amenities. From a casino and multiple restaurants to a lagoon-style swimming pool, this resort has everything you ask for a comfortable and entertaining stay.
2. Adina Apartment Hotel Darwin Waterfront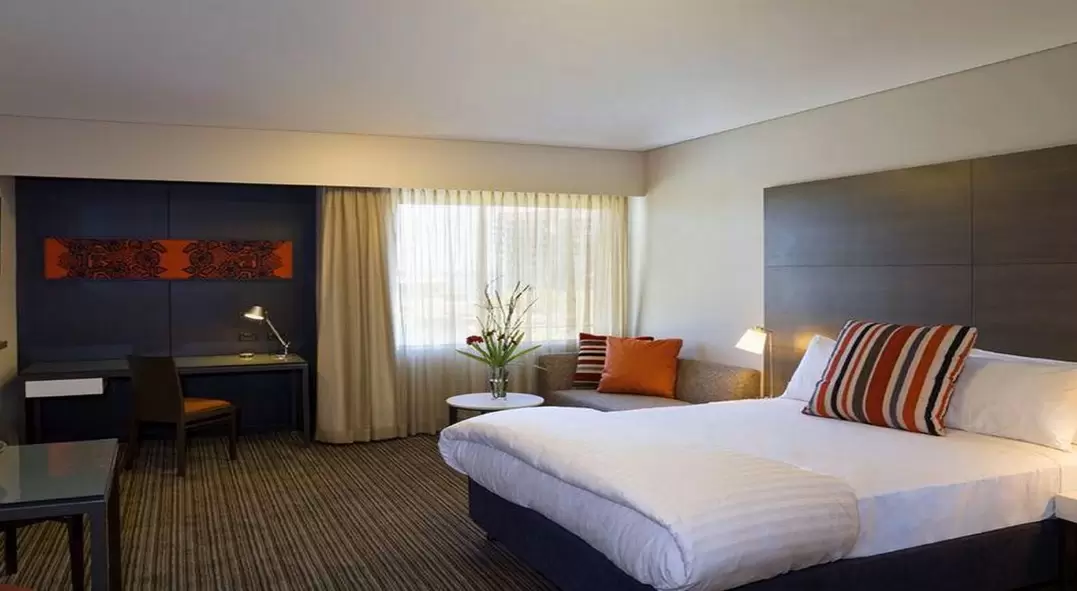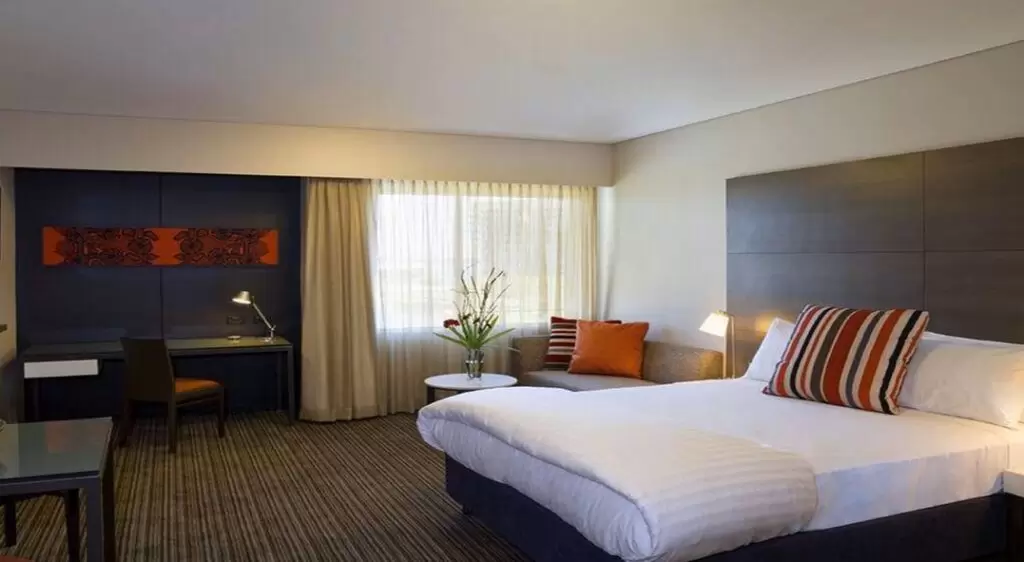 Situated in the heart of the Darwin Waterfront Precinct, Adina Apartment Hotel offers spacious and modern apartments giving a homey feel with stunning harbour views. Enjoy the convenience of having restaurants, cafes, and attractions at your doorstep, making it the centre of everything.
3. Mantra Pandanas
Looking forward to absorbing pure urban living? Mantra Pandanas, a contemporary hotel located in the city centre offers urban sophistication to fulfil your dream. With stylish rooms, a rooftop pool offering panoramic views of the city, and easy access to shopping, dining, and entertainment options, this hotel locks a comfortable and convenient stay.
4. Mindil Beach Resort
Mindil Beach Resort is a perfect place for couples to stay and romanticize under the sunset. Imagine waking up to the sound waves hitting the sandy shores just a few steps away. From the gym to the spa the resort has everything to unwind and enjoy your stay to the max.
Another plus point of having your accommodation here is the close proximity to the main attractions and top-end safari via the airboat. You got to experience it all!
Takeaway
Darwin, with its bounty of remarkable natural wonders, diverse culinary scene, and exciting activities, provides a truly immersive experience for travellers.
From exploring national parks and indulging in mouthwatering cuisines to immersing yourself in the rich aboriginal indigenous culture and enjoying the vibrant city vibe, Darwin offers a perfect blend of adventure and relaxation.
So pack your bags, because you are about to get on a journey of a lifetime! Let Darwin captivate you with its tropical charm and awe-inspiring beauty as Darwin surely has something for everyone.